Posted: Thursday, August 20, 2015 1:16 PM
---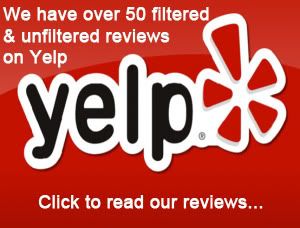 All Toronto women know that staying hair free with regular bikini and Brazilian waxing is crucial all year round. Yet when the weather gets colder, and the bikinis get stored far away for months to come in our Toronto apartments, it's often hard to justify spending extra cash on a Brazilian wax. That's why the owners of Aroma spa, knows that cost should never prevent a man or woman from getting their monthly wax.

Aside from searching for affordable prices, getting a bikini wax in a safe and secure environment is always most important for those seeking the perfect bikini line. That's where Aroma Wellness Clinic and Spa comes in. Not only is the price right with the Brazilian wax costing $35, but the aestheticians are great at what they do, and the spa offers a full menu of waxing services for both men and women.

At Aroma Wellness Clinic and Spa, no-nonsense, Brazilian wax is quick and relatively painless. Aroma Spa offers affordable manicures, as well as pedicures, waxing, facials, massages, anti-aging treatments, and much more, but it's the Brazilian wax priced at about a third of the competition's that keeps their faithful patrons coming back regularly.

The founder, Mary Miljan, spent over 10 years refining every aspect of the company before evolving into an organic wellness clinic and spa and a specialized wax facility.
Aroma Wellness Clinic and Spa is recognized by its guests as a premier provider, industry leader with a focus built around providing guests The Ultimate Wax Experience!
We are a full service wax salon, but we specialize in Brazilian waxing. We have had years of experience with Brazilian waxing and pride ourselves in being the best Toronto has to offer.
We also know the secrets that other spa/salons don't know about your skin, the direction of your hair growth and how to make waxing a pain free and quick experience.
At Aroma we are committed to making your time with us extraordinary. Our motto is "The best wax you'll ever have. Seriously." That is something that has shaped our vision of Aroma spa from the ground up.


Your experience with Aroma Spa begins the moment you schedule your appointment. Are you nervous? Are you a first time waxer or have you had a bad waxing experience in the past? Well let us ease your fears. Our front desk team is incredibly warm and friendly, and no question is too personal or too embarrassing. Trust me, we have heard it all before! After you schedule your appointment, either by phone or online, it's time to come and see us! Walk through our door and you'll experience what makes Aroma Wellness Clinic and Spa so special. You'll be greeted warmly by one of our fabulous front desk team, offered a cup of tea or a glass water. You'll be led to our lounge where you can read a magazine, all while soaking up the hip, modern, comfortable surroundings. Your WAXOLOGIST will greet you and show you to a waxing room, which is immaculate and private. Each room is supplied with an organic after lotion with Aloe to calm the skin and give your skin a beautiful healthy hairless glow. We are also obsessive when it comes to cleanliness and hygiene and we never recycle our wax or spatulas and we never double dip, creating a truly contamination free hair removal center. We are very proud to use everything disposable and what can't be disposable 100% sanitized. After answering any questions, your wax will begin. You'll be astounded by how comfortable you will feel, and how painless the wax will be. In no time, your wax will be complete and your life as you know it will be changed forever. You will be a wax convert. More importantly, you will be an Aroma Spa convert.
Aroma Spa is more than just your typical salon: it's a culture. We love what we do, and it shows. We are a group of super talented, expertly trained, licensed, and highly skilled in depilating myriad areas with a bare minimum of discomfort that have 2 things in common: we love to wax and we love to satisfy our guests. The result is long-lasting silky smooth skin that will give you an all-over glow from head-to-toe. We offer a high-end environment at an extremely competitive price point. Our strong image is well known as we service hundreds of satisfied guests each and every week.

We use our own unique cream based organic wax made for any skin type (including sensitive skin) that is imported from Italy and that we like to keep the name and ingredients "secrets"... That's Right, this "secret" blend of wax is EXCLUSIVE to Aroma Spa, where We provide custom waxing programs for your specific needs, whether it's Full Body Waxing or a Brazilian wax. We cater to men and women seeking to remove any and all unwanted hair on all areas of your body (excluding the top of your head).

At Aroma wellness clinic and spa, we're not in it for the short term gain or one time visit. Instead, we focus our energy on long term business and guest loyalty.
That's why at Aroma we provide you we diiferent way to save :

:: Refer-A-Friend and Receive $5 OFF Your Next Visit.
:: Pre-Paid Waxing Series
:: Unlimited Wax Card
:: 15% OFF ON TUESDAY & WEDNESDAY

---

Please Make an appointment to see why you will never go to another salon after visiting Aroma Spa.
Our wax pots are always on and our team of "Smooth Operators" is always available to address all of your hair removal needs. One visit and you will see: it's the best wax you'll ever have. Seriously.

Located @ 588 Bloor Street West (Bloor and Bathurst, 1 Block west of Bathurst, North side of Bloor on the 2nd Floor). We are very close to the Bathurts's Subway station, (exit Markham St.) Green P Packing available on the back of the building.

We don't claim to be the best our clients do....

Prior to waxing information
It's important that you moisturize the area being waxed for a couple days before your appointment. Dry skin makes waxing more painful...so use lotion and have a better experience!
The hair needs to be at least 1/4 in and no longer than 1 inch (1/4 in is ideal). If it's longer, the wax will mat in the hair and you will not be able to wax that day. Use your beard trimmer to achieve this prior to your appointment.
Pre-medicate about an hour before the procedure. Tylenol is the best way to go and you should take it at least one hour prior to your appointment.(a glass of wine helps a bit too...)
Shower and clean your entire body thoroughly before the appointment. It's only fair. This service involves a certain amount of nudity and some very intimate positions. You will be asked to undress from the waist down and provided a towel. You will be expected to use it and assist in the procedure in a calm and professional manner at all times.
All your questions will be answered. After care instructions will be provided, including what to expect. You will be advised to exfoliate and use antibacterial ointment between waxing. Your skin may react in a number of different ways, there's no way to tell for sure, but rest assured everything is manageable.


After Care Treatment
I wish I could say that you won't break out or have any ingrown hairs ever, but it wouldn't be true. You will have less issues than with shaving, I can promise that. There are a few things you can do to minimize post waxing trauma. To ensure maximum comfort and benefit after the treatment, it is important to follow the steps below at home:
Avoid applying heat to the waxed area for 12 to 24 hours. This includes really hot baths, sauna, and steam. Also avoid pools, hot tubs, oceans or rivers/lakes.
Avoid sun tanning for 12 to 24 hours. This includes any strong ultraviolet (UV) light exposure or tanning bed treatments.
Avoid applying highly fragranced products to the waxed area. This includes perfume, scented body lotions, antiperspirants, tanning accelerators, cosmetics or feminine hygiene sprays. Only use professional after care products, recommended to you by me.
If you are prone to in-grown hairs or want to avoid them, exfoliate waxed area with Finipil after care products to avoid future problems.
Avoid applying high SPF sunblocks to the waxed area for 12-24 hours after the waxing service. Sunscreen chemicals can be irritating to the newly waxed skin. This includes self-tanning products and tan accelerators.
Any pinking of the skin should disappear within 6 to 8 hours after the waxing treatment. Slight pinking is normal, and indicates that the hair was removed from the root, rather than superficially broken off, as in shaving. This is the reason that professional waxing lasts so much longer.
For best results, repeat your professional waxing every 4 to 5 weeks depending on the area and your individual hair growth rate. Its best to wax consistently, at the same time interval. This trains the growth cycle and gives you the best results. Most issues get better after your skin and hair follicles get used to being waxed...consistency is the key!

The Best Brazilian Bikini Wax in Toronto Has Never Been So Cheap! Unbeatable Prices at Toronto\'s Best Spa, Aroma Wellness clinic and Spa


Brazilian Waxes made affordable, with cheap prices at Aroma Spa in Toronto, all year round!

All Toronto women know that staying hair free with regular bikini and Brazilian waxing is crucial all year round. Yet when the weather gets colder, and the bikinis get stored far away for months to come in our Toronto apartments, it\'s often hard to justify spending extra cash on a Brazilian wax. That\'s why the owners of Aroma spa, knows that cost should never prevent a man or woman from getting their monthly wax.

Aside from searching for affordable prices, getting a bikini wax in a safe and secure environment is always most important for those seeking the perfect bikini line. That's where Aroma Wellness Clinic and Spa comes in. Not only is the price right with the Brazilian wax costing $35, but the aestheticians are great at what they do, and the spa offers a full menu of waxing services for both men and women.

At Aroma Wellness Clinic and Spa, no-nonsense, Brazilian wax is quick and relatively painless. Aroma Spa offers affordable manicures, as well as pedicures, waxing, facials, massages, anti-aging treatments, and much more, but it's the Brazilian wax priced at about a third of the competition\'s that keeps their faithful patrons coming back regularly.

Aroma Spa stays open 7 days a week most days until 9p.m. So go ahead and make your appointment at Aroma Spa today even though walk-in's are always welcome! The best part? You'll be in and out in time for your after work cocktails with the gals or that special someone.

Aroma Wellness Clinic & Spa
588 Bloor street West 2nd floor
Toronto ON M6G 1K4
416-505-5222
http:// http://www.aromawcs.ca/


Check our Prices & ONLINE BOOKING @ http://onlinebooking.salonspaware.com/aromawellness


*See our promos :


:: Refer-A-Friend and Receive $5 OFF Your Next Visit.
:: Pre-Paid Waxing Series
:: Unlimited Wax Card

:: 15% OFF ON TUESDAY & WEDNESDAY


TOP 10 REASONS WHY TO WAX WITH US...

- No Double Dipping
- No Wax Recycling
- Excellent Quality Wax, Manufactured in T.O Affordable Prices
- Hygienic, Sanitary Facility
- Waxing Saving Programs

-15% off Tuesday and Wednesday
- We Provide Services 7 Days a Week
- Qualified, Experienced, Licensed Waxologist
- Very Accesible Location (Bloor $ Bathurst Subway)

-Our wax is a cream based organic wax made for any skin type (including sensitive skin). Each room is supplied with a organic after wax lotion with Aloe to calm the skin and give your skin a beautiful healthy hairless glow and we provide FREE numbing spray!

We Are Right at the subway line (BLOOR & BATHURST exit markham St)

P Parking Available...

All Credit Cards Accepted

Name:

Aroma Wellness Clinic & Spa

Phone:

4165055222

Url:

Email: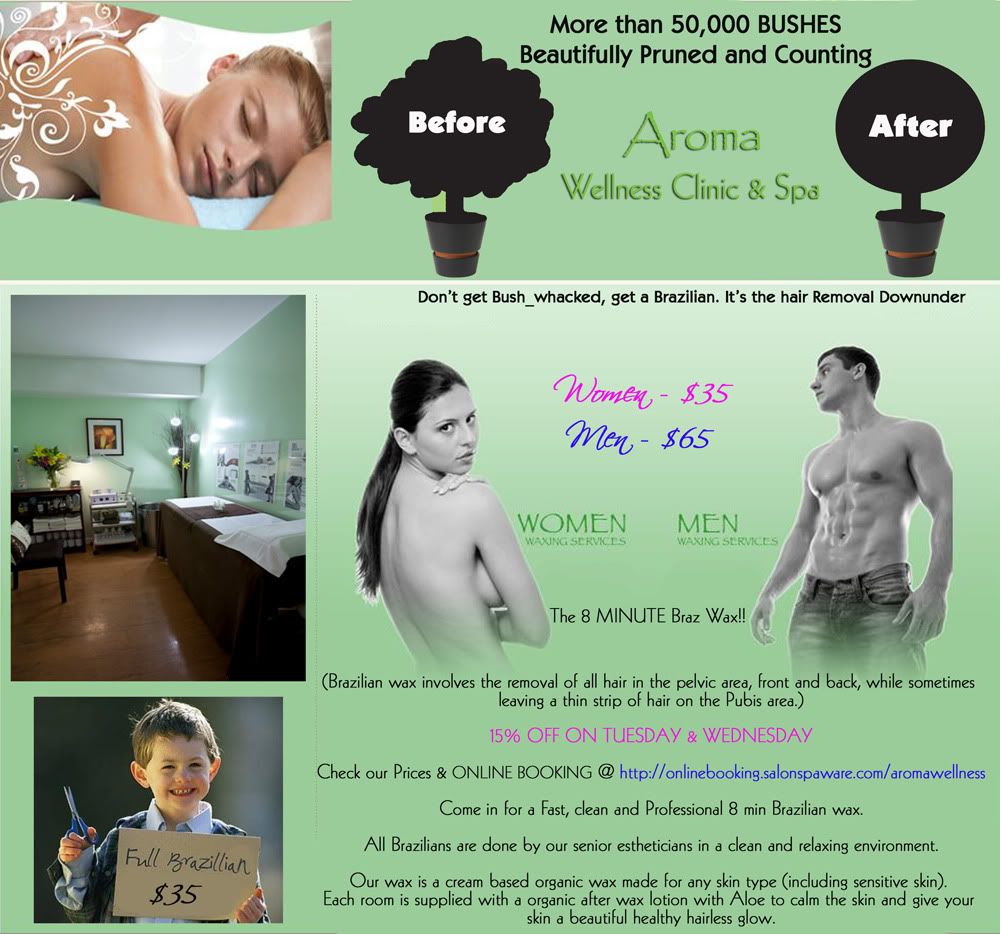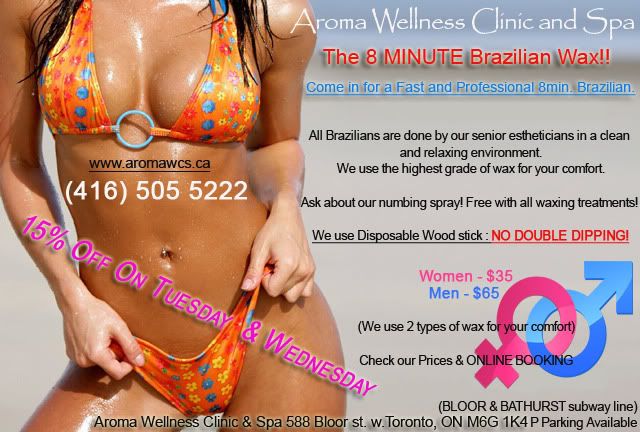 Contact: Ph: 416-505-5222 Address: 588 Bloor street West, Toronto ON M6G 1K4 Website: http://www.aromawcs.ca/
Hours:

• Location: AROMA WELLNESS CLINIC & SPA TORONTO, Toronto

• Post ID: 6234790 toronto